Increasing Conversion Rate Strategies
Over the past year we have been hard at work helping our clients build their online presence on various social networks, improving their website usability and creating additional features to engage with their audience and facilitate more sales. Strategic planning and marketing campaign management is a work of art in this age of digital enlightenment. That said, small businesses can easily conquer new markets by combining their web marketing efforts with other social media strategies.
Lately, our marketing strategies  yield an impressive conversion rate of 8.9% for one of our online retail client. We achieved this by using Facebook, Pinterest, targeted email newsletters, and other web-based call for action!
According to the latest data, in 2013 retail/ecommerce sites reported an average conversion rate of 3%, while media/publishing sites averaged 10%, technology hardware sites 5%, and the software industry sector averaged 7%. Professional/financial services, which would include legal, medical, and accounting firms, reported the highest average conversion rate of 10%.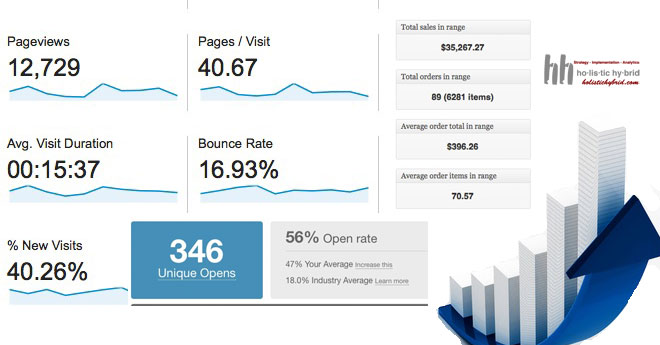 How can you improve your overall conversion rates?
Design and Usability
Increasing your conversion rate requires some creativity and consistency with your original calls to action. The ideal landing page incorporates an attractive visual to draw in the user, with clearly presented value points that encourage a simple form submission. Remember, the customers already made the decision to commit to what you're offering. All you have to do is show them that they will be getting the value they expected when they clicked your call to action button.
Designing a user friendly website with compelling Colours and attractive images is a key starting point to get people to stay on your website once they land on one of your pages. Facilitating their experience with an easy to navigate website, clear call for action, and process to purchase and check out is ultimately what will convert them from browsing to purchasing!
Pinterest can Drive eCommerce Sales
Pinterest is now the 3rd most popular social network site in the world, and ecommerce stores can leverage its popularity to significantly increase traffic and sales.
Interestingly, referral traffic from Pinterest to most online stores is on average equal to the traffic coming from Twitter and Facebook. But of that traffic, shoppers are 10% more likely to make a purchase compared to those who arrive from other social sites. Furthermore, of those purchases, the average order is double the average order from Facebook. Pinterest has already become a huge player in the world of commerce. (Based on Shopify recent data.)
Targeted email Newsletter  Campaigns
One of the most important elements of any email marketing strategy is the actual number of subscribers  on a list who follow through from an email to a website. This number by itself will tell you how effective your message was. It also indicates how much each subscriber is worth in advertising dollars. It's not just about getting the reader to open the email, but getting them to follow up by clicking on a link and closing the call for action (either with a sale or other actions).
Tracking you Progress 
With the use of reporting tools like campaign reports and Google analytics, you help you can get a good idea of what is working. You can also use 3rd party tools like Bit.ly to monitor your traffic from your blog posts, or social media site updates. But most importantly, you will need to take the time to analyze your data and see how you can improve your overall user experience. Building a large email list will by no mean guarantee you a higher conversion rate if your target audience is not actively engaged by your call to action!
This is where we come in ! We aim to help you achieve higher conversion rates. Â Holistic Hybrid has years of experience in managing online marketing campaigns and analyzing website data.
Some of the ways we can help you include optimizing your website, create compelling content, improve the usability of your website, and help you manage your online social media presence.
Don't wait, contact us today for a consultation!